Are you losing customers to competitors? Are your sales statistics trending downward? It is possible for a business to experience a time when it starts to decline due to poor performance in the past few months. This is when an entrepreneur's expertise, skills, and endurance is tested. Businesses can survive their declining phase by implementing multiple revival strategies, allowing them to continue operating for many years in the future.
However, it is not as easy to save a business from liquidation as it seems. You need to have a plan devised with precision and filled with strategies free from uncertainties. Although, the first challenge is to realize that your business is nearing shut down. A lot of owners believe their company is doing well by merely looking at the profit it is making.
Experts recommend business people to assess their company's cash flow. It is often referred to as the king that tells you if your business is growing sustainably or not. There is a very clear difference between profit and cash flow. One relates to the condition where annual revenues are greater than costs, while the other is about how much money is coming in and going out.
Doesn't it seem like a logical thing to monitor the cash flow of your business closely? Without sufficient financial reserves, a company cannot do much. It would not be able to pay off expenses, employees' salaries, approve marketing budgets, and other operating costs. History shows that many profitable companies fail because they spend faster than they earn, resulting in a notable reduction in cash at hand and bank.
You must have a lot of questions roaming within your mind right now. All of those queries are going to be answered shortly since it is time to begin a detailed and informative discussion regarding our topic.
What Are The Symptoms Of Corporate Decline?
Your business is going to tell you itself that it's nearing a declining phase which would inevitably lead to permanent closure before it takes place. It is the responsibility of the owner, key decision-makers, and other executives to evaluate the situation and take action accordingly. Here's what happens when a business is close to shutting down;
· Unable To Meet Annually Projected Revenue Targets: As an entrepreneur, you have to keep assessing the monetary situation of your business by studying the financial statements. Inability to make profits and boost sales while being out of money is a clear sign that a change of strategies is severely required. This does not mean you have to take out a loan as it will have a negative effect. Instead, you have to start reducing losses or come up with ways to improve sales. Do I need to retrain the sales team? Where is my business lacking? What can be done to make improvements that will bring my business back to life? You need answers to such questions.
· Lack Of Communication: A lot of businesses shut down because different departments stop communicating, affecting the flow of useful information in a negative manner. This happens mainly due to grudges among the employees, so they stop conversing. People within companies stop trusting each other, and official statements are disregarded. It is vital to tackle this issue by holding a meeting of departments headed by the CEO and other executives. Clearing out any misunderstanding that exists is beneficial for everyone. Otherwise, the business would eventually close, and people would be out of work.
· There Are No New Customers: There is no doubt that retaining the existing buyers is essential. However, attracting new ones contributes to the expansion of your operations. If you have not sold any products to new customers for a long time, take a step back to detect the areas your business lacks and try to make them better. Attracting new customers has a lot to do with your marketing strategies. Schedule a meeting with the marketing department, hear them out, give helpful guidance, and keep checking their progress regularly until new sales start to come in.
· Existing Customers Begin To Leave: Losing buyers to your competitors is another sign of business failure. This can be due to a number of factors. Firstly, the quality of your products may have worsened over time. Secondly, other businesses may be offering the same products at lesser rates with better quality. Thirdly, your customers' requirements may have changed over time. This calls for you to understand why your business has not been able to keep up with these critical changes. Figure out the reasons behind the reduced quality, revise your rate list, and study the market to realize the new demands of the customers. It should be noted that the needs of the buyers keep on changing, so staying updated is necessary for sustainable growth.
The environment within your company matters to a great extent. An increase in employee turnover rate also states that a business is no longer able to satisfy the needs of its workforce. There are people who are irreplaceable. Your company could start declining if you fail to recognize and accommodate them accordingly. Similarly, negativity and a demotivated workforce are not good for any type of business.
A competent entrepreneur's responsibility is to know their business fully. Holding weekly meetings with the department managers and other heads to take updates of their workings becomes necessary. Calculated risks should be taken where uncertainties are minimized, and returns are guaranteed to some extent. The introduction of revised plans with clear goals and objectives is needed. In addition to this, strategies to reduce costs should be implemented until improvements are visible.
How Can A Profitable Business Run Out Of Finances?
The first thing we need to understand is that running a business and managing one are both significantly different. Those who are not capable of managing a business should either learn or hire someone else to do it because lack of management can be costly in the future.
For those unaware, cash flow relates to the net balance of money going out and coming into a business. The entire movement of money within a business is recorded with the help of a cash flow statement. How much cash is used to pay expenses? How much cash is received from customers or the sale of a non-current asset? Every cash transaction can be tracked via these statements.
The net balance of a cash flow statement depicts the accurate picture of a business's financial reserves. The statement of financial position (balance sheet) is also used for this purpose, but it only shows the net assets and liabilities of the business.
Profitable businesses run out of money by not managing their cash flow adequately. It is quite simple to become better at your job as a business owner. Here's what you can do;
1. Learn To Read & Evaluate Your Financial Statements: Merely taking a lot at the income statement, balance sheet, cash flow statement, etc., is not going to be of much help. You need to be aware of various liquidity and profitability ratios for a better evaluation of your business. These include the current ratio, trade receivables/payable ratio, inventory turnover, and gross profit margin ratio. Most importantly, you must know about the debt service ratio that clearly tells the availability of money for paying off loans.
2. Keep Accurate Records Of The Inventory: You need to be aware of the number of goods present in the storage at all times. Failure to abide by this guideline is going to be costly. What if the inventory is overstated or understated? The former would lead to loss of customers as you would not be able to deliver the goods when the time comes while the latter would increase your costs. Hence, tracking inventory is a necessary task that all business people must do.
Are you wondering how learning about the accounts receivable or payables ratio would help? The accounts receivable ratio states the number of days it takes for a credit customer to pay you. On the other hand, the accounts payable ratio shows the number of days you are allotted to pay off creditors. Imagine what would happen if a business pays off trade payables within 15 days but receives money from the debtors after 30 days. It would have an adverse effect on the overall cash flow of your business.
Learning these ratios proves valuable in making the right decision for your business. You can also take guidance from the accountant at your bank and knowledgeable peers. One can take assistance from a certified public accountant in such matters.
Keep Reading…
What if there was a way to rectify the entire situation relating to the closure of your business? Have you ever heard of B2B eCommerce? It is a technologically advanced method of trading that utilizes the internet to enable businesses from around the world to connect. B2B relates to business-to-business dealings that take place over a digital marketplace.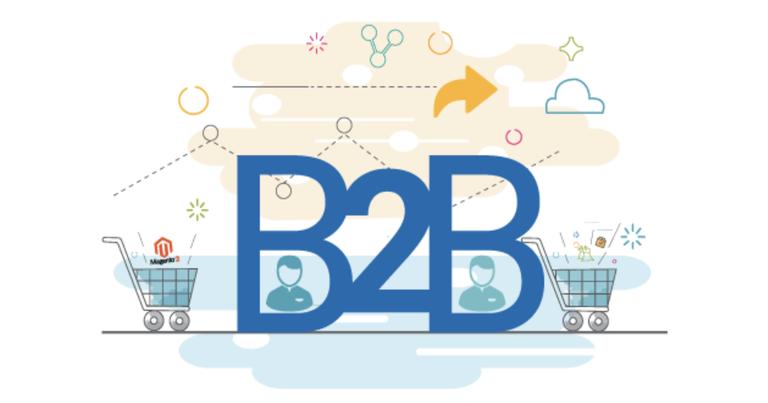 International B2B trade platforms have exclusive online websites, while a few leading ones, like TradeWheel.com, have also launched smartphone applications. Think about it, you no longer need to be physically present within the international markets or a certain part of the world to sell goods in bulk quantities. You simply sign up as a seller, purchase a package or become a free member on TradeWheel.com, and begin communicating with the prospective buyers through the portal's website or app after adding products.
This is a perfect escape plan for businesses on the brink of shutting down. What makes working with such a renowned foreign trade B2B platform is that you no longer have to keep track of the inventory. Since this is an entirely digitalized trading method, the stock count will automatically be updated after every sale or addition. This ultimately reduces one of the two tasks you have to do to save your business from bankruptcy.
TradeWheel also exposes your business to innovative advertisement strategies such as SEO (search engine optimization), social media marketing, creative designing, etc. In addition to this, specific buyer personas are created, and each marketing campaign is run according to those profiles. This attracts a sufficient number of buyers who belong to your target audience, saving your time and energy by trying to convince only those likely to place sizeable or sample orders.
There is a qualified and trained sales team who can help secure orders from buyers residing in different parts of the world. You can respond to the buy-offers posted on TradeWheel's website by the buyers in which they explain all the details regarding their unique requirements. You can start sending them quotations immediately after registering as a seller. This would give a pretty amazing start to the revamping procedure of a business nearing closure.
Another thing about TradeWheel that benefits you is ERP (enterprise resource planning) integration. This relates to synchronizing the ERP software with various business activities, including CRM (customer relation management), EDI (electronic data interchange), etc. It means all the fundamental operations of your business are automated. The data from each resource is collected and presented in one place, easing its accessibility to a great extent. This proves valuable for your business, its employees, customers, and the representatives of the B2B portal.
Rest assured that the possibilities of sustainable growth and boosts in revenues are endless once you realize the significance of working with a globally acclaimed international B2B trade platform, TradeWheel.com. Digitalizing your business activities contributes to notable cost reductions while improving the prospects of building a diverse clientele of importers living in other countries.
Final Words
One of the primary reasons behind a business being forced to close its offices refers to the executives' incompetency in recognizing the potential of adapting to new ways of operating. It is the responsibility of the company's owners and key decision-makers to stay updated about new inventions that can add efficiency to their operations through research and other techniques. There are many ways of overcoming the problems that lead to the closure of a business. You only need to be willing to change the practices and adopt newer ones in the process to continue enjoying increased returns.